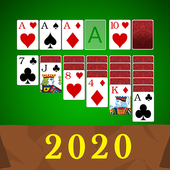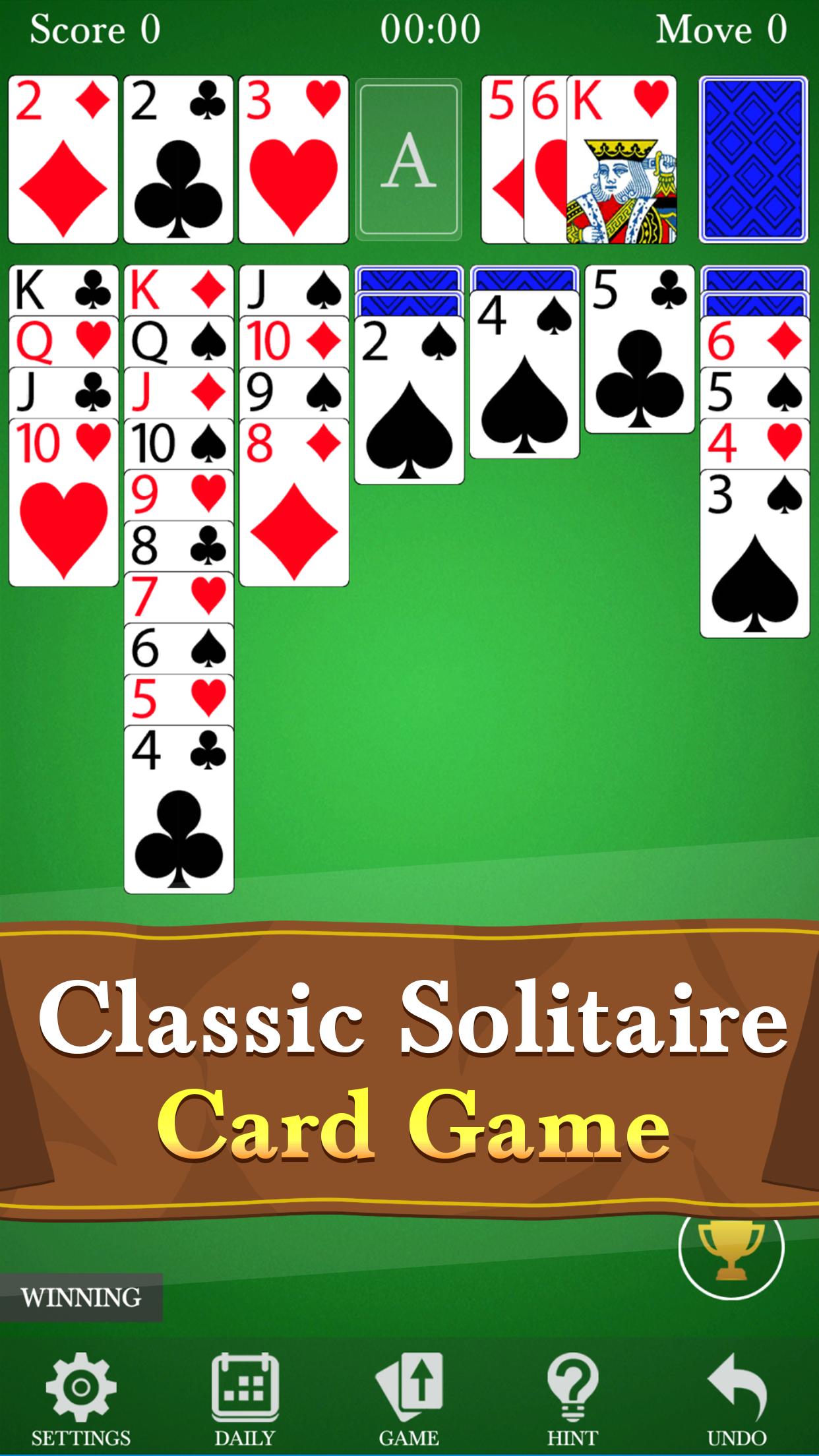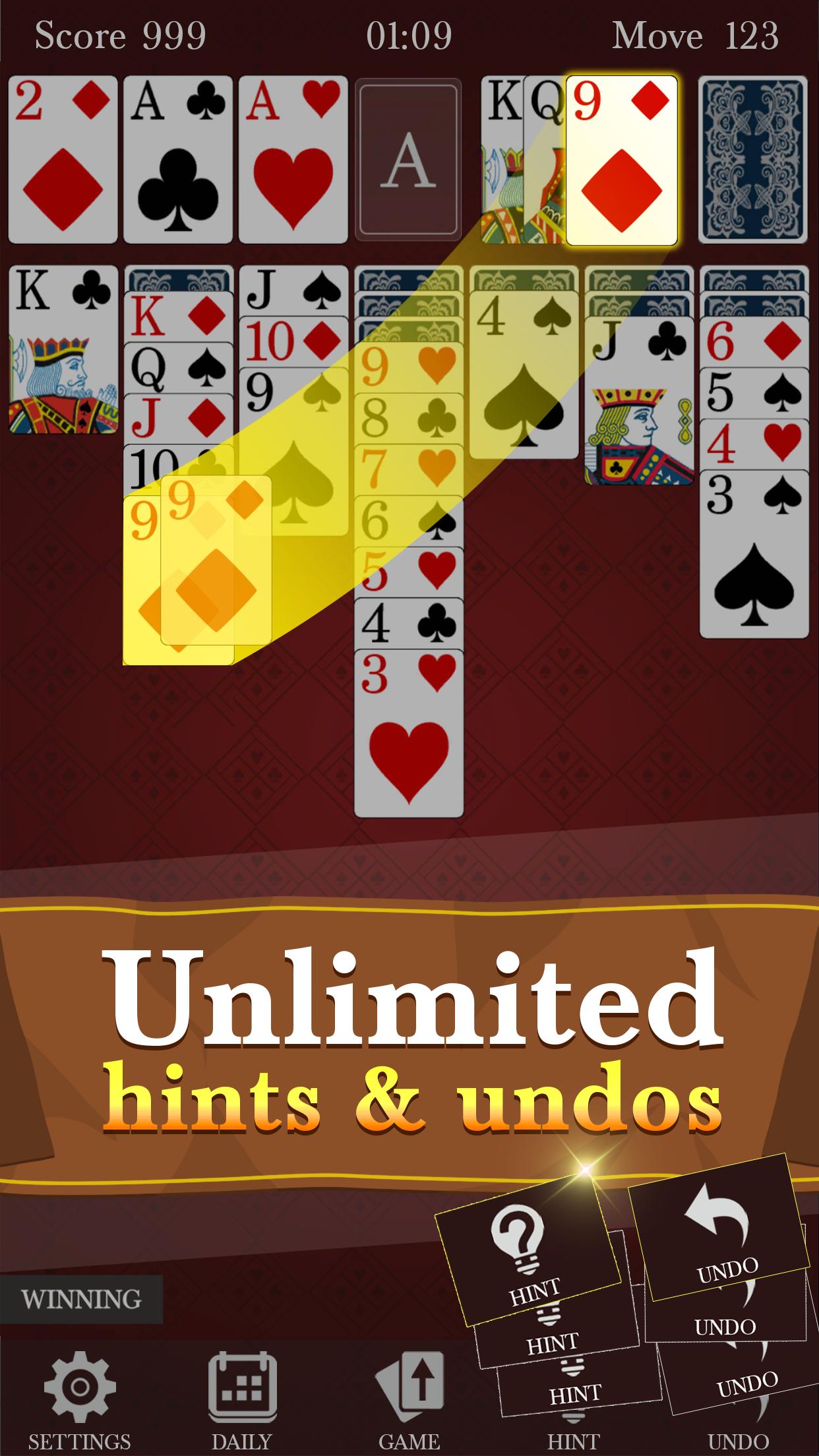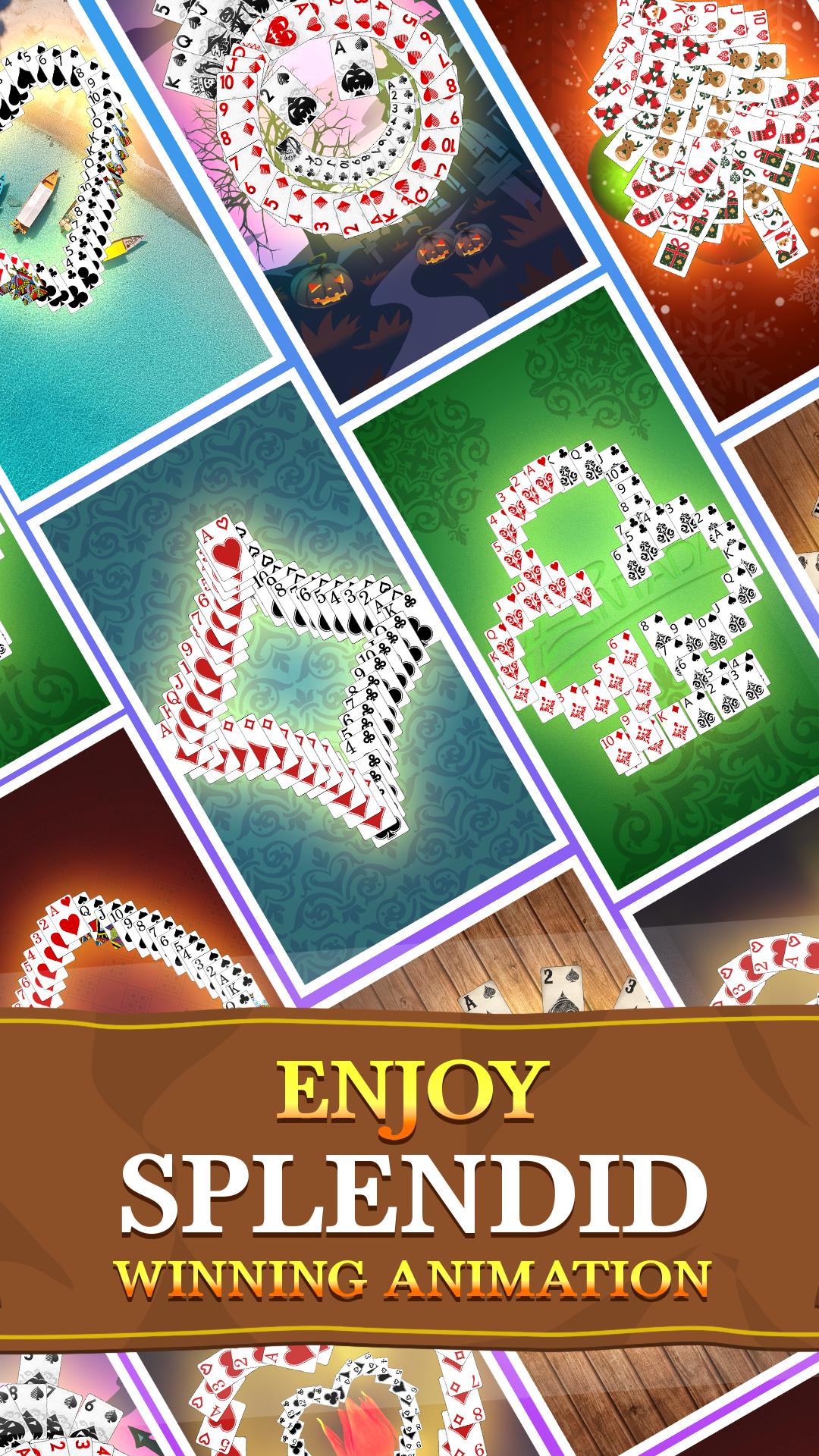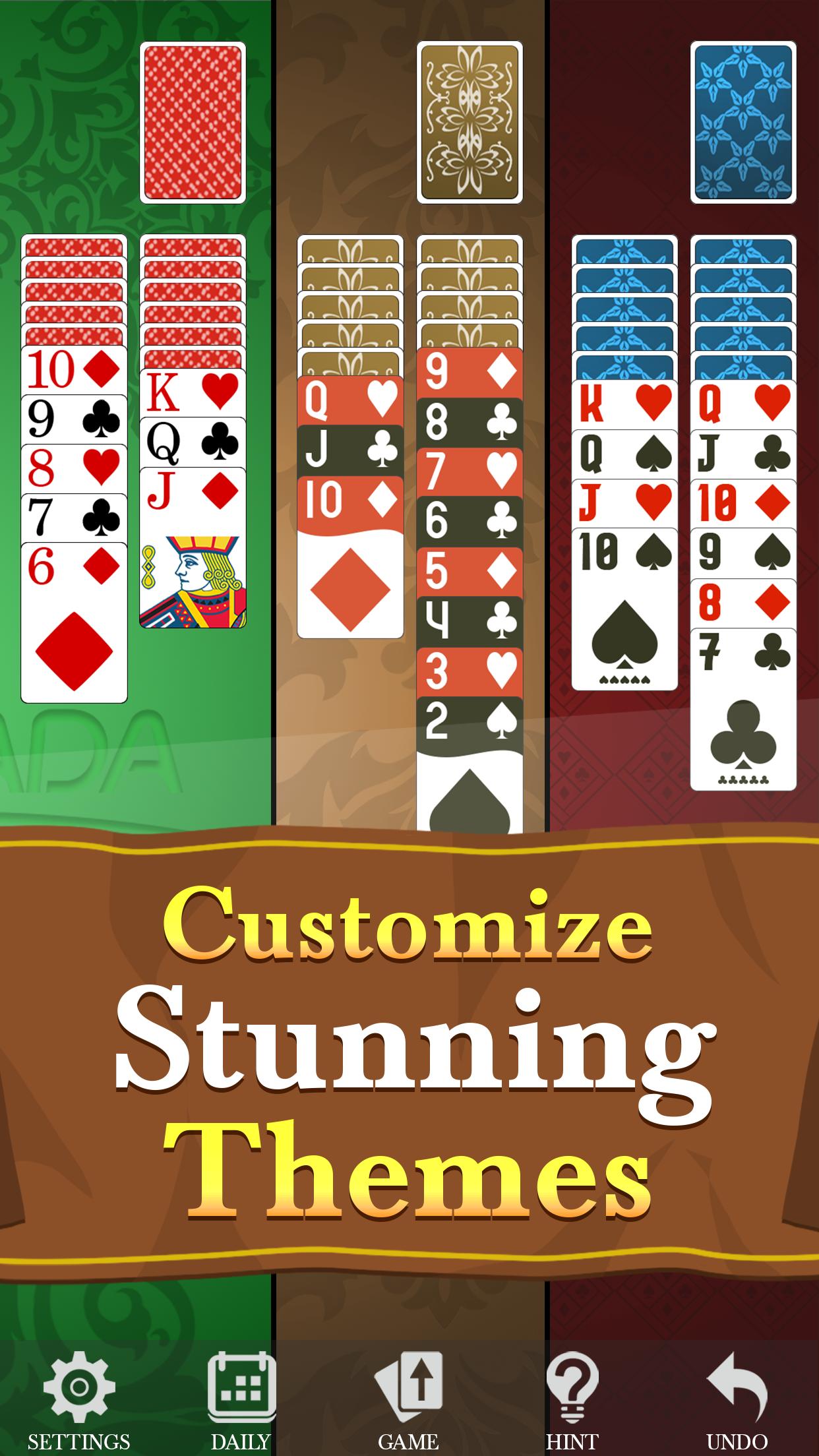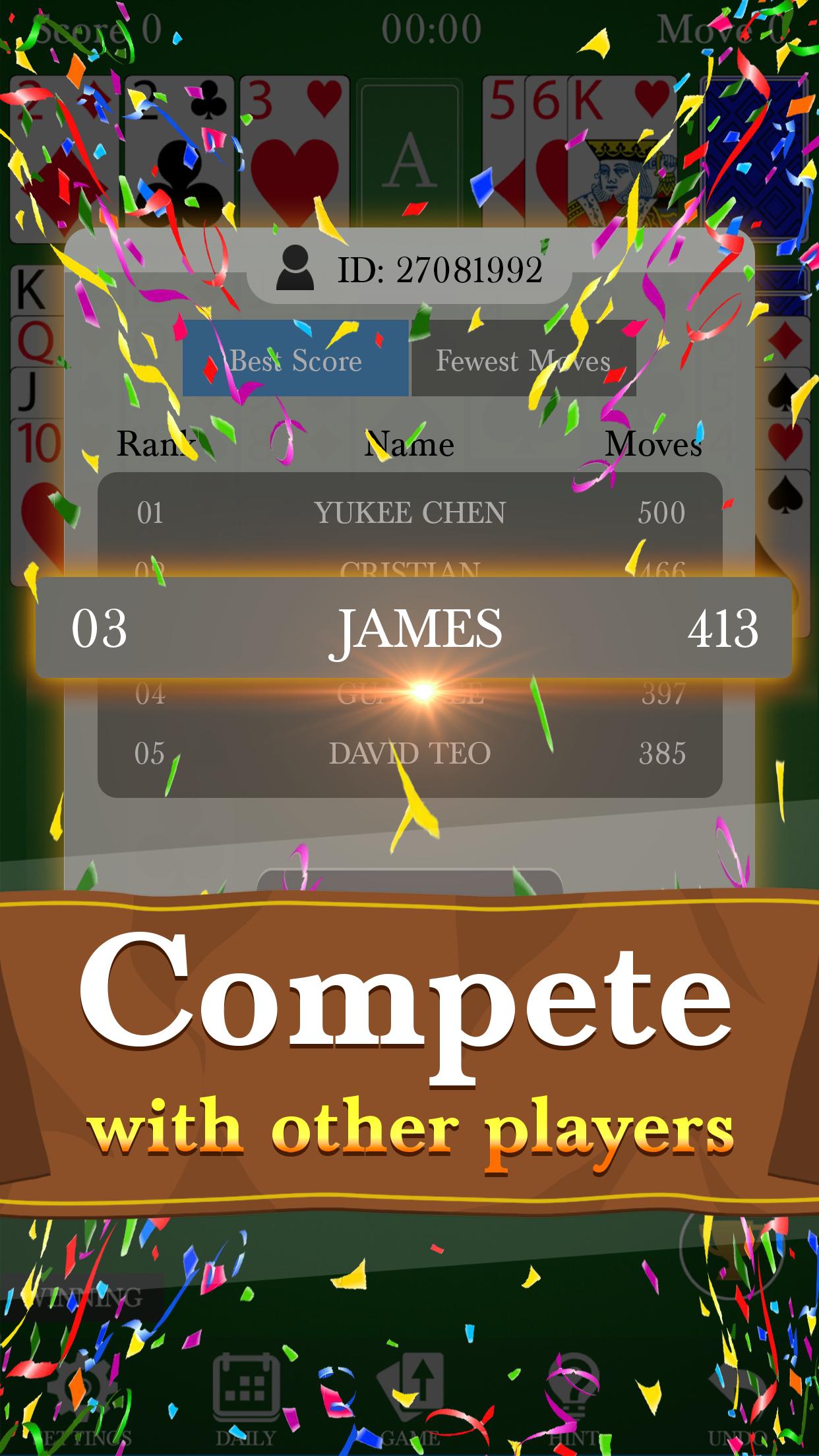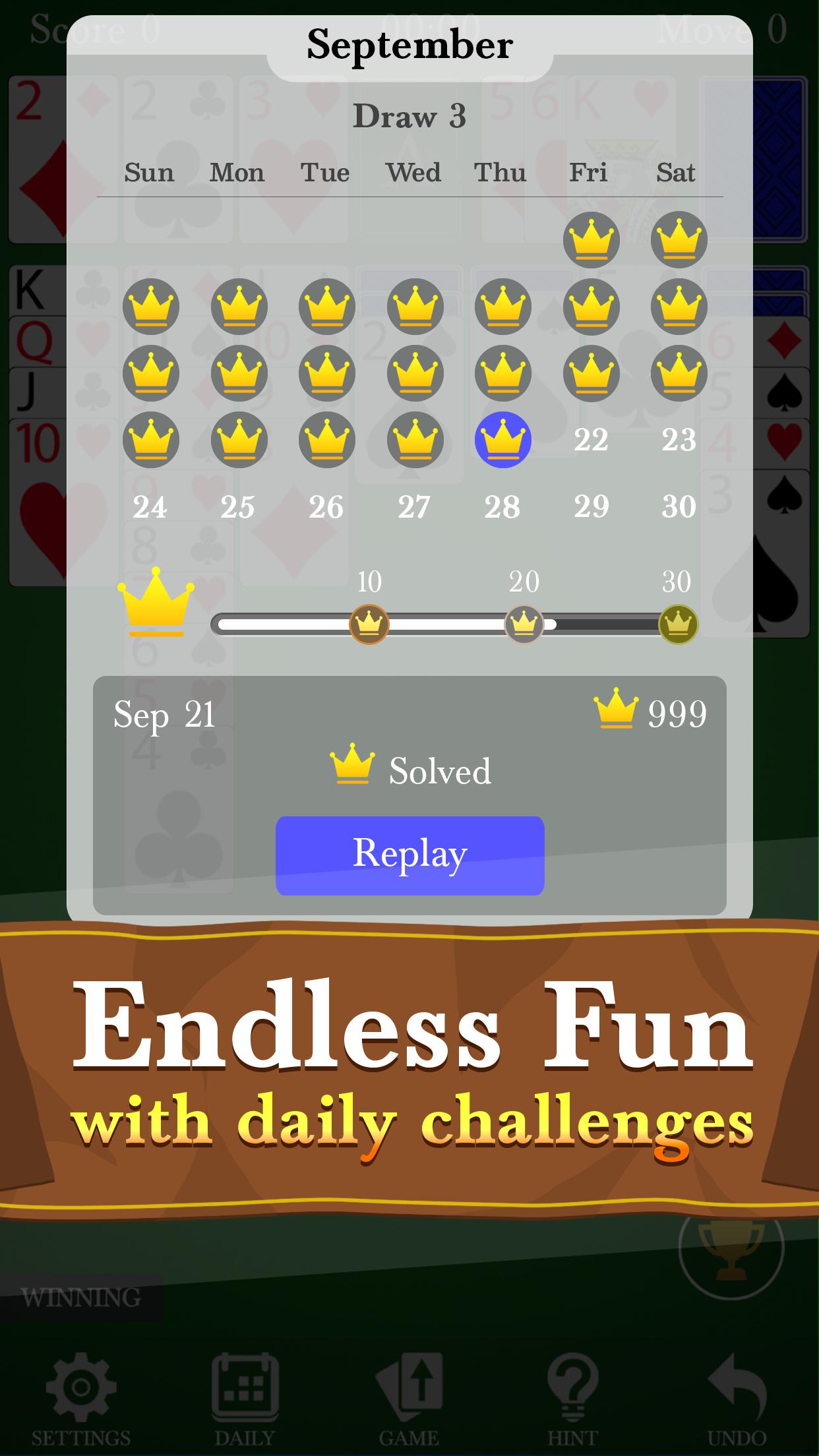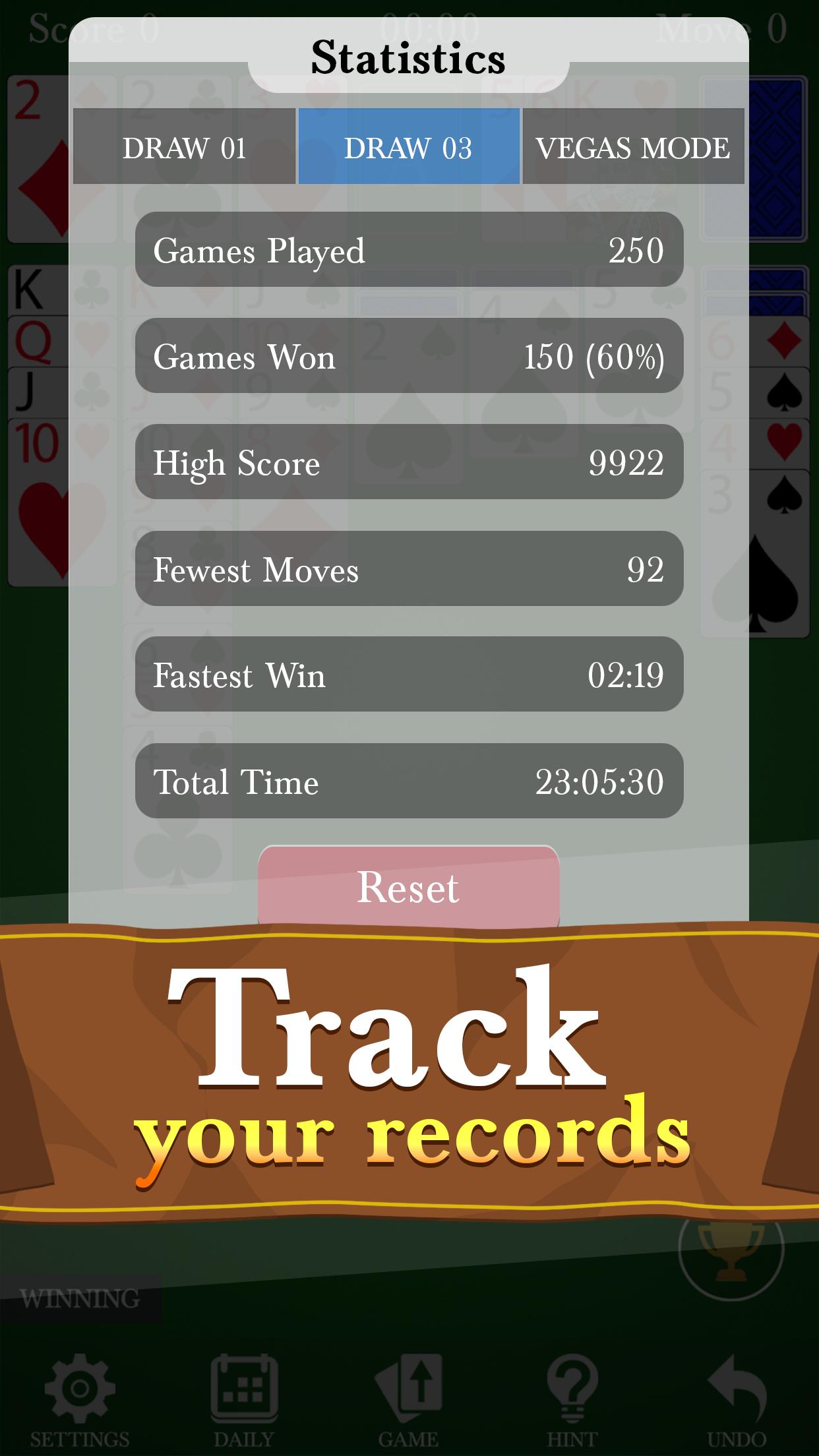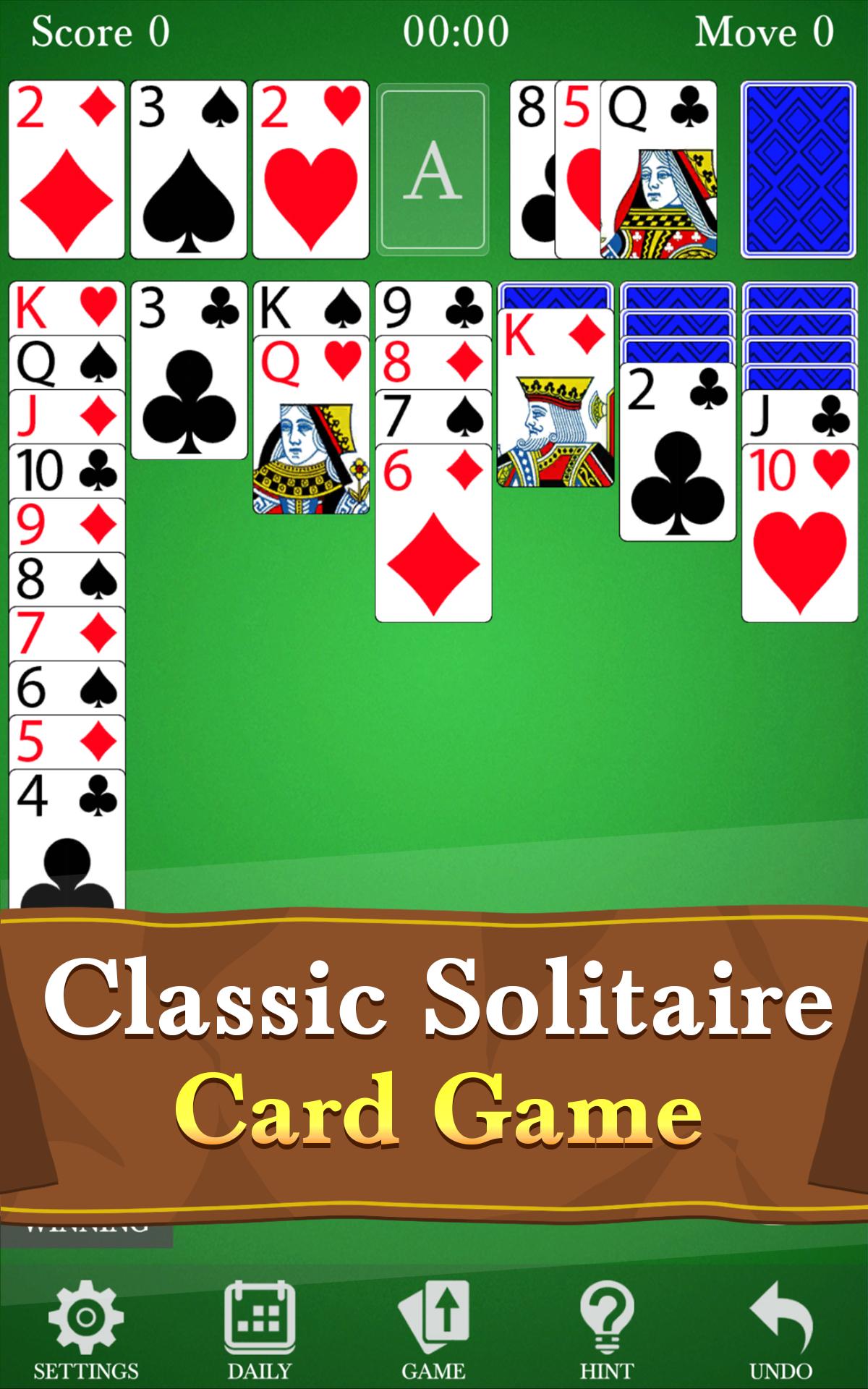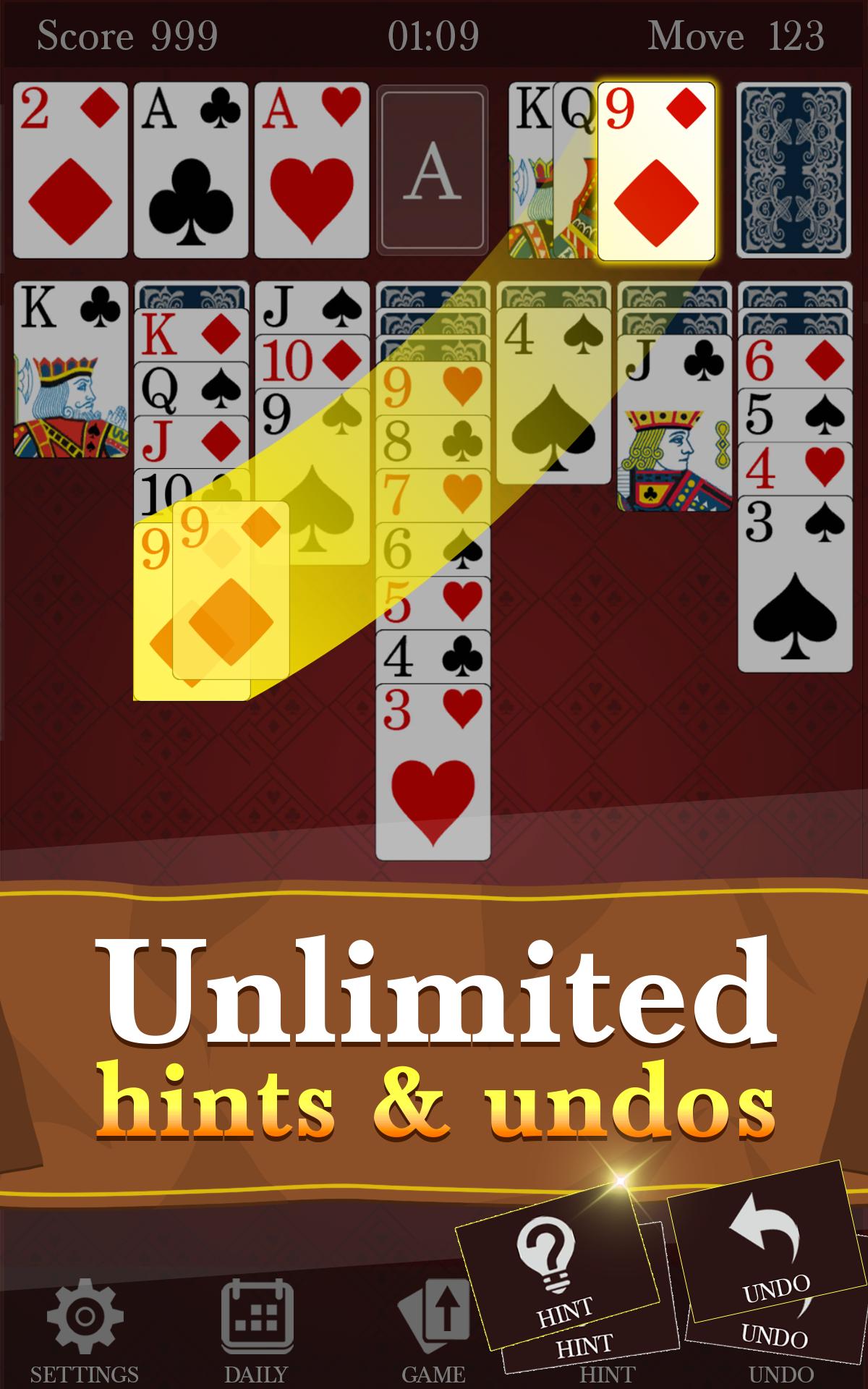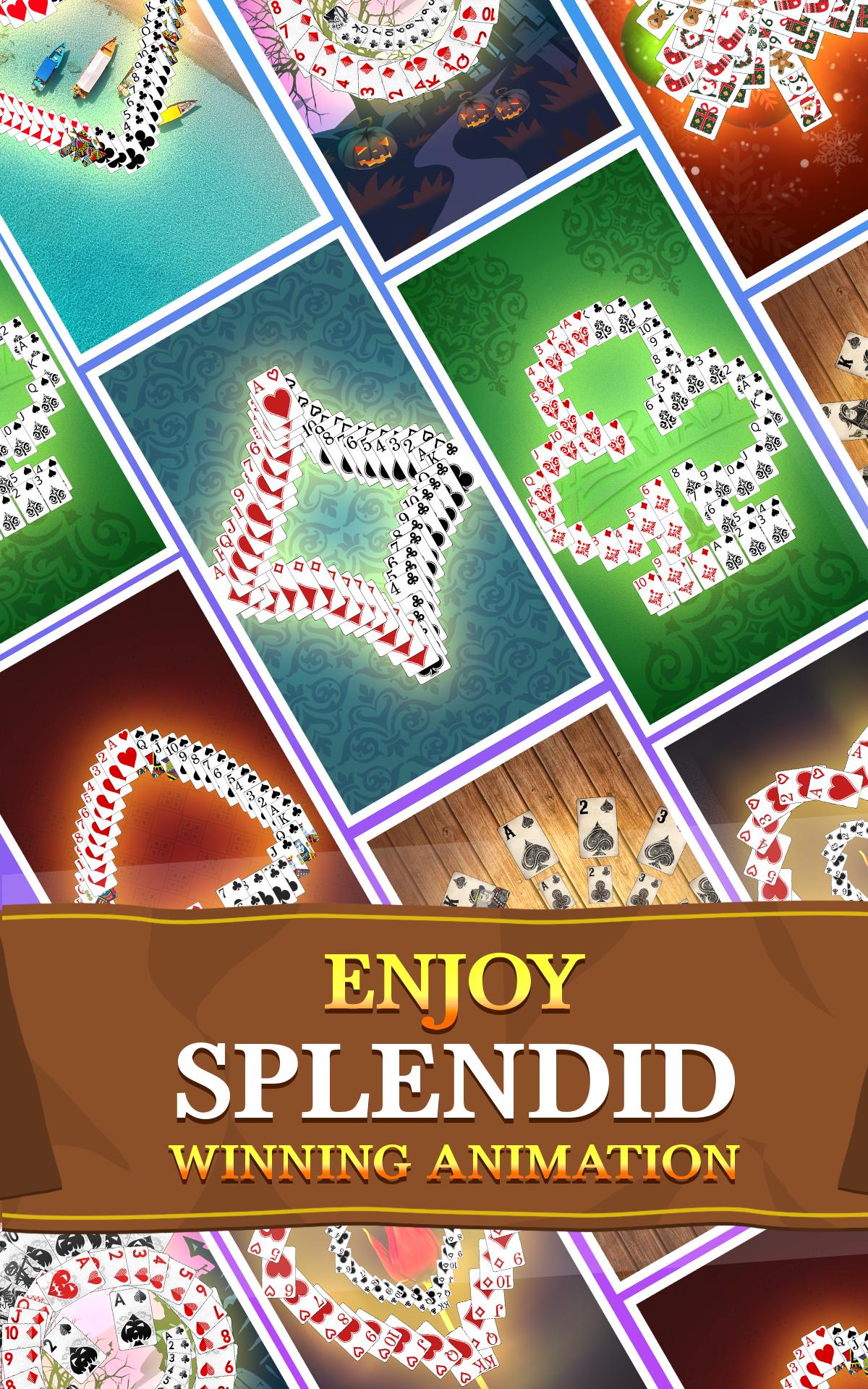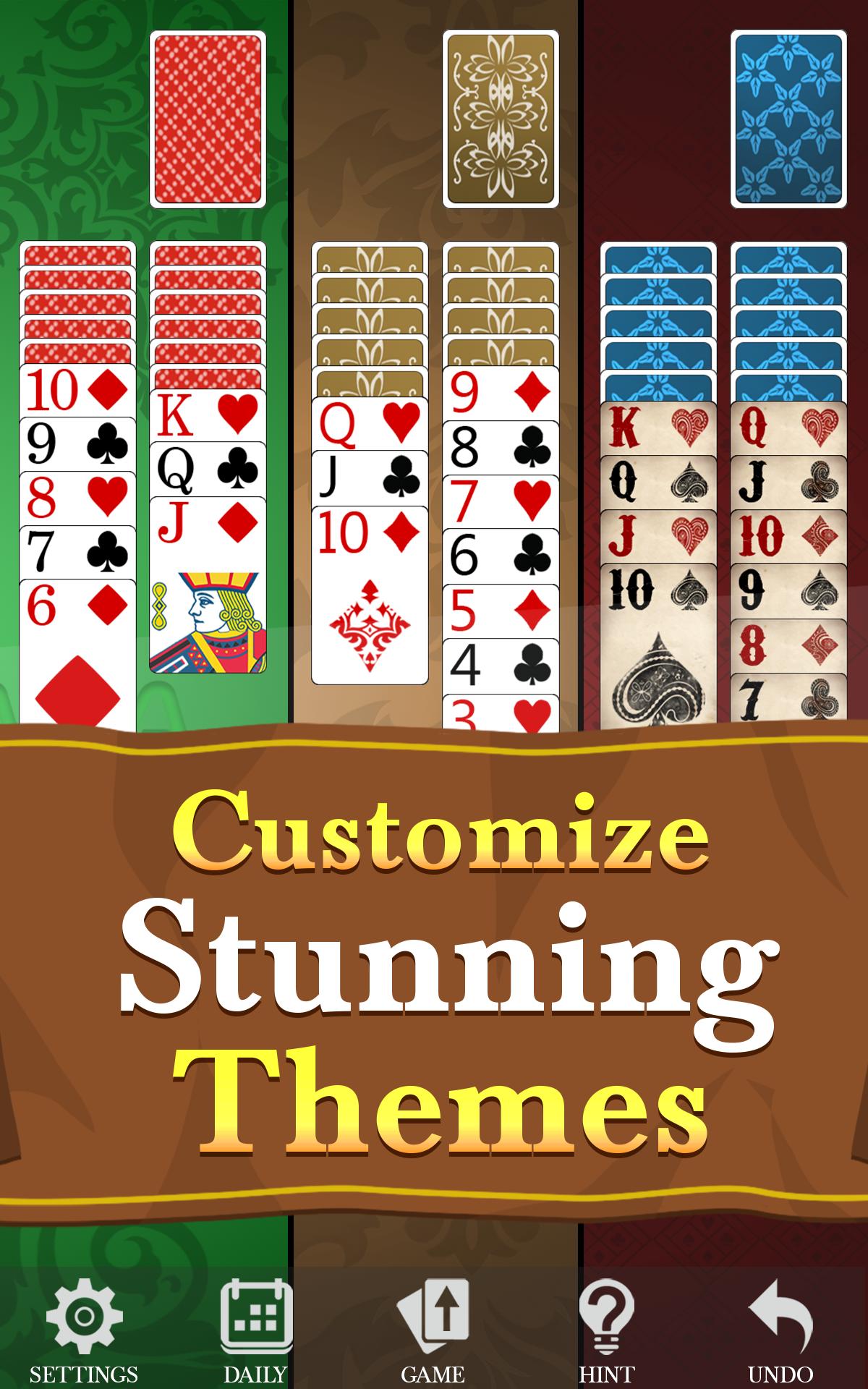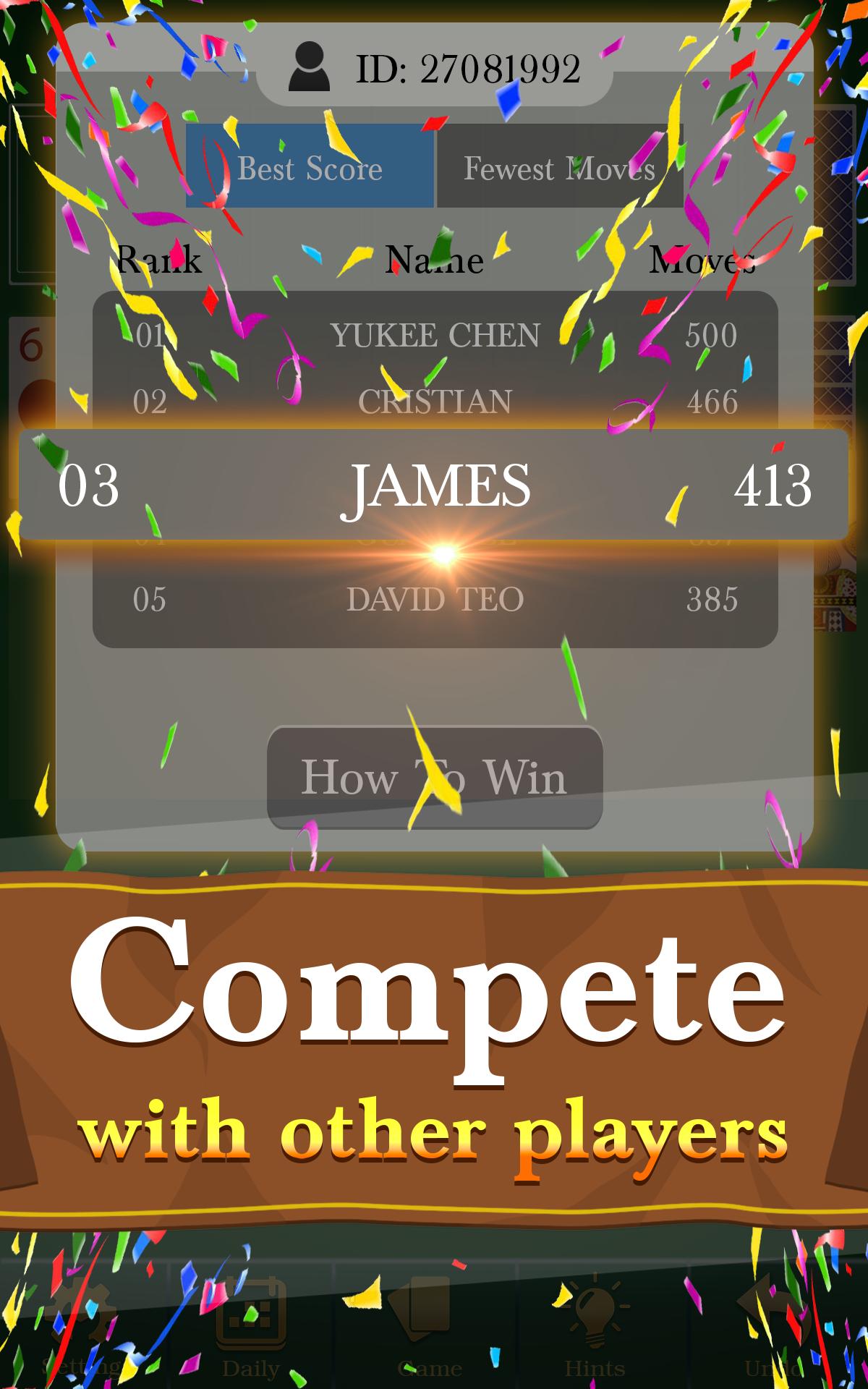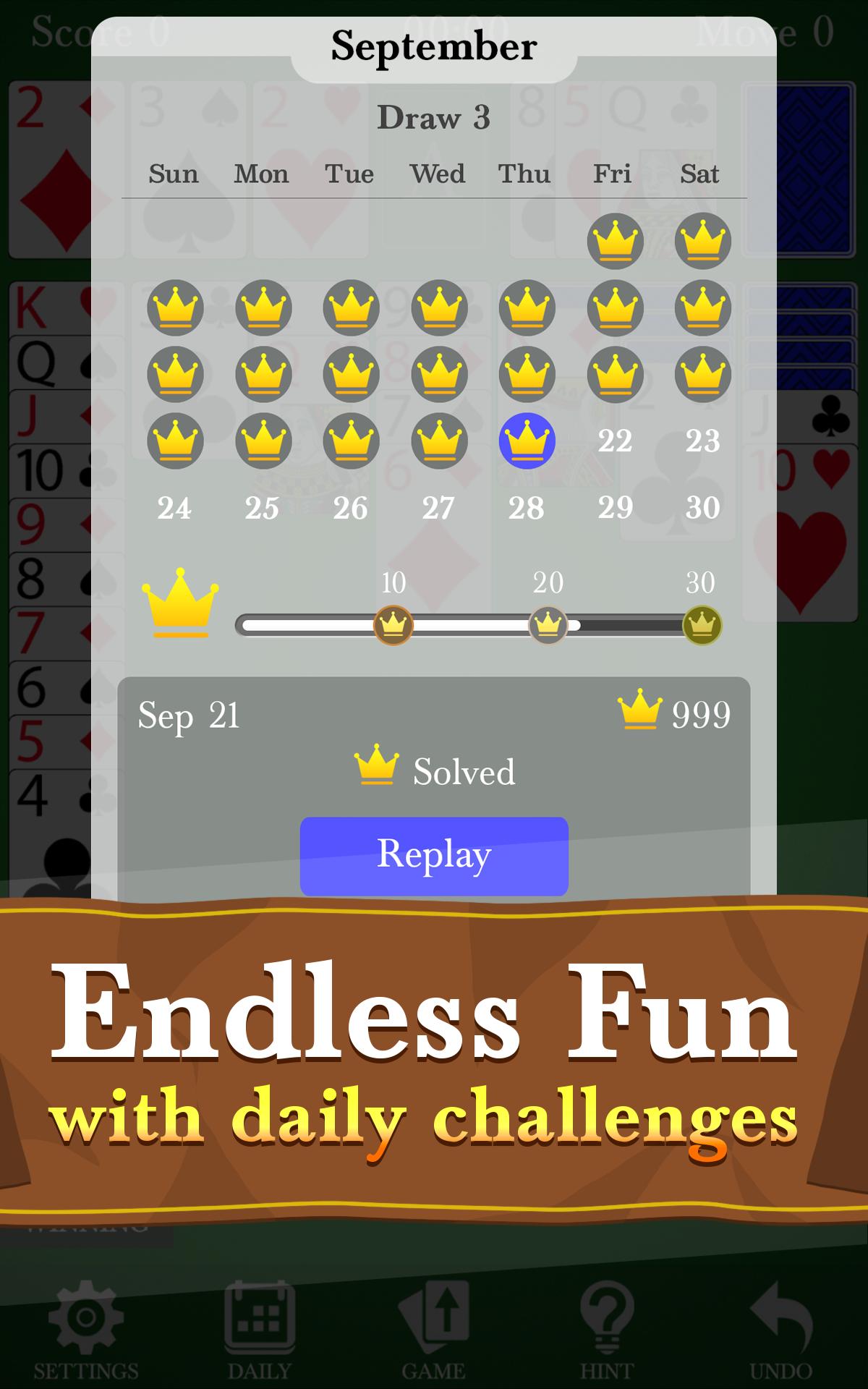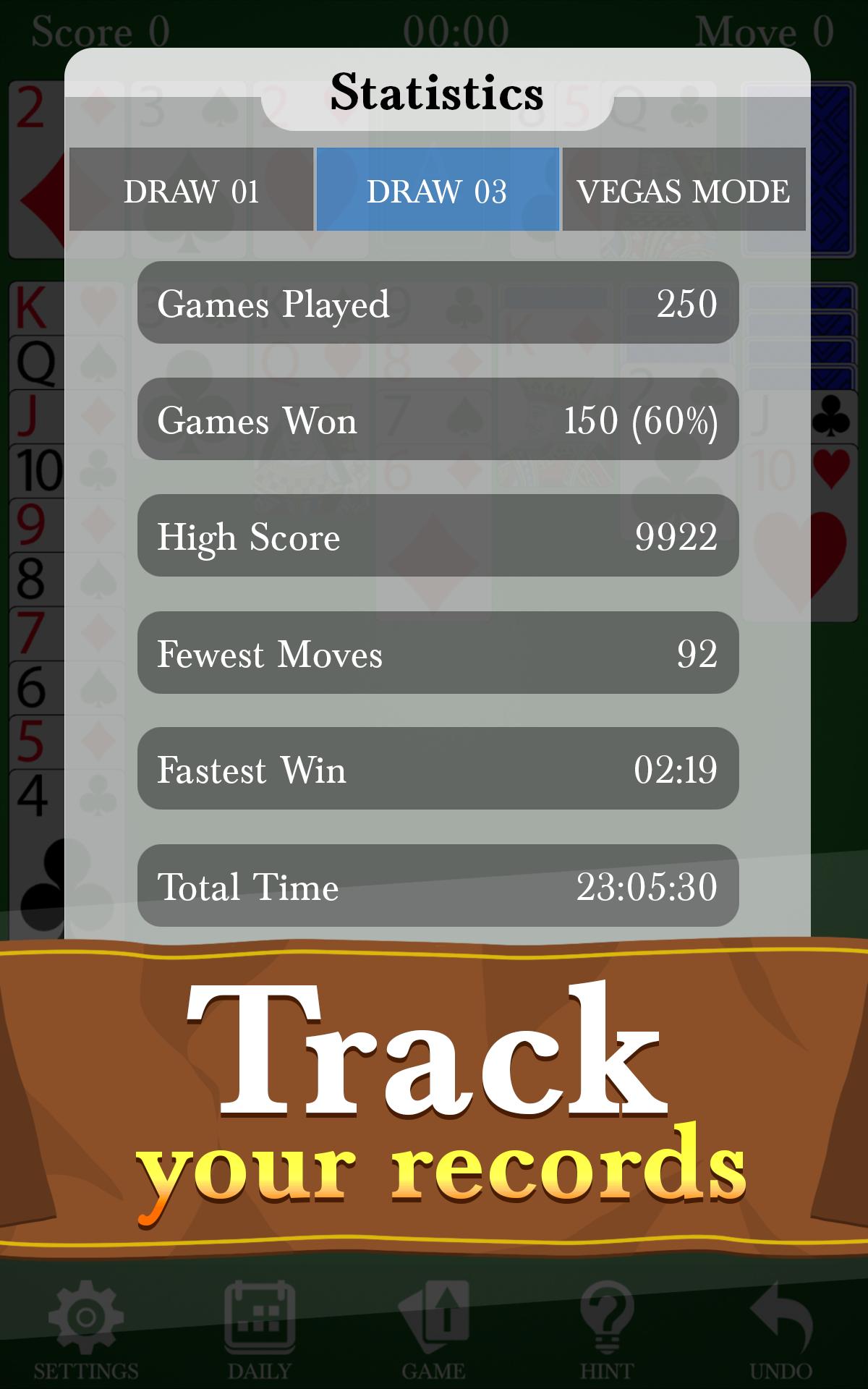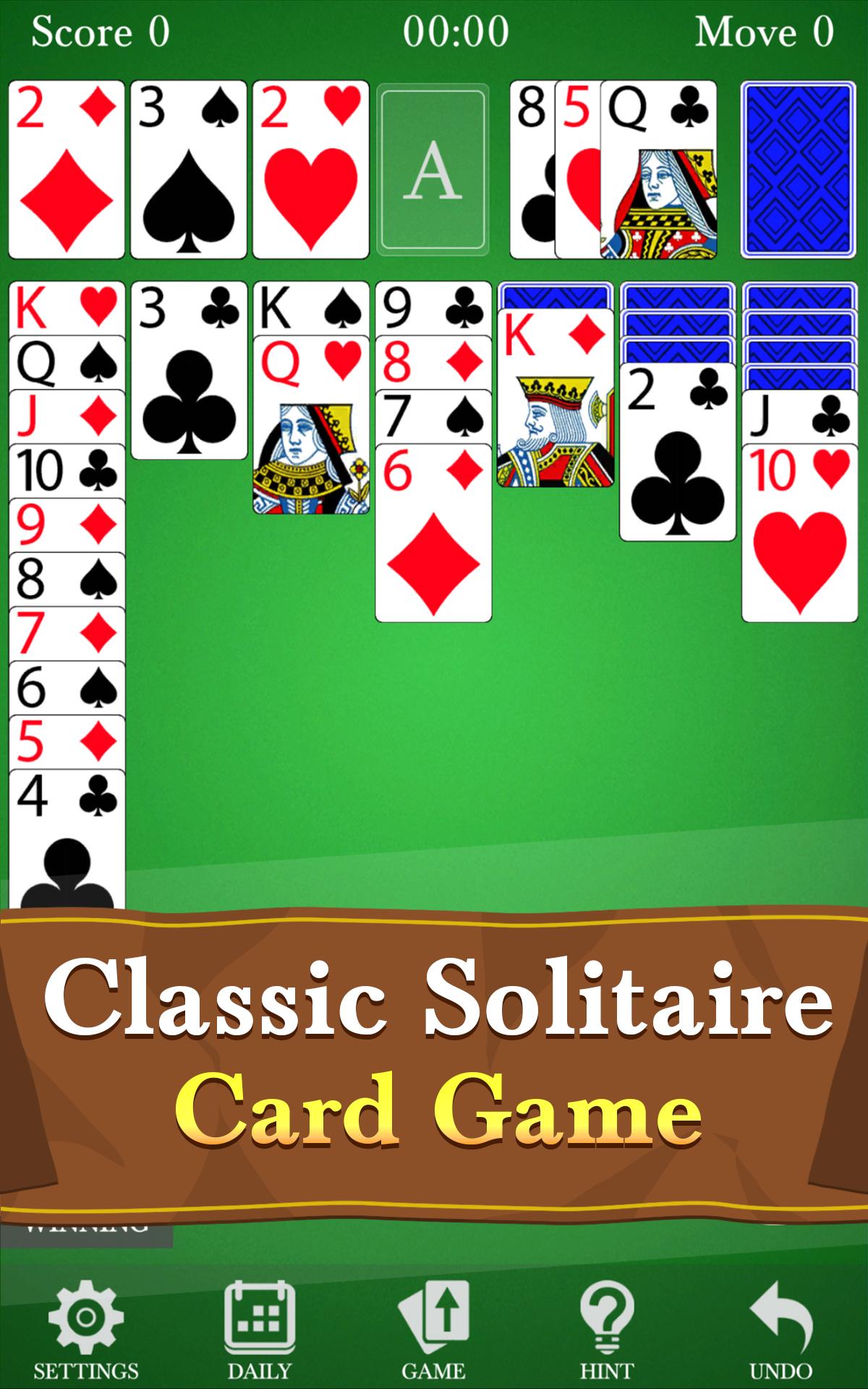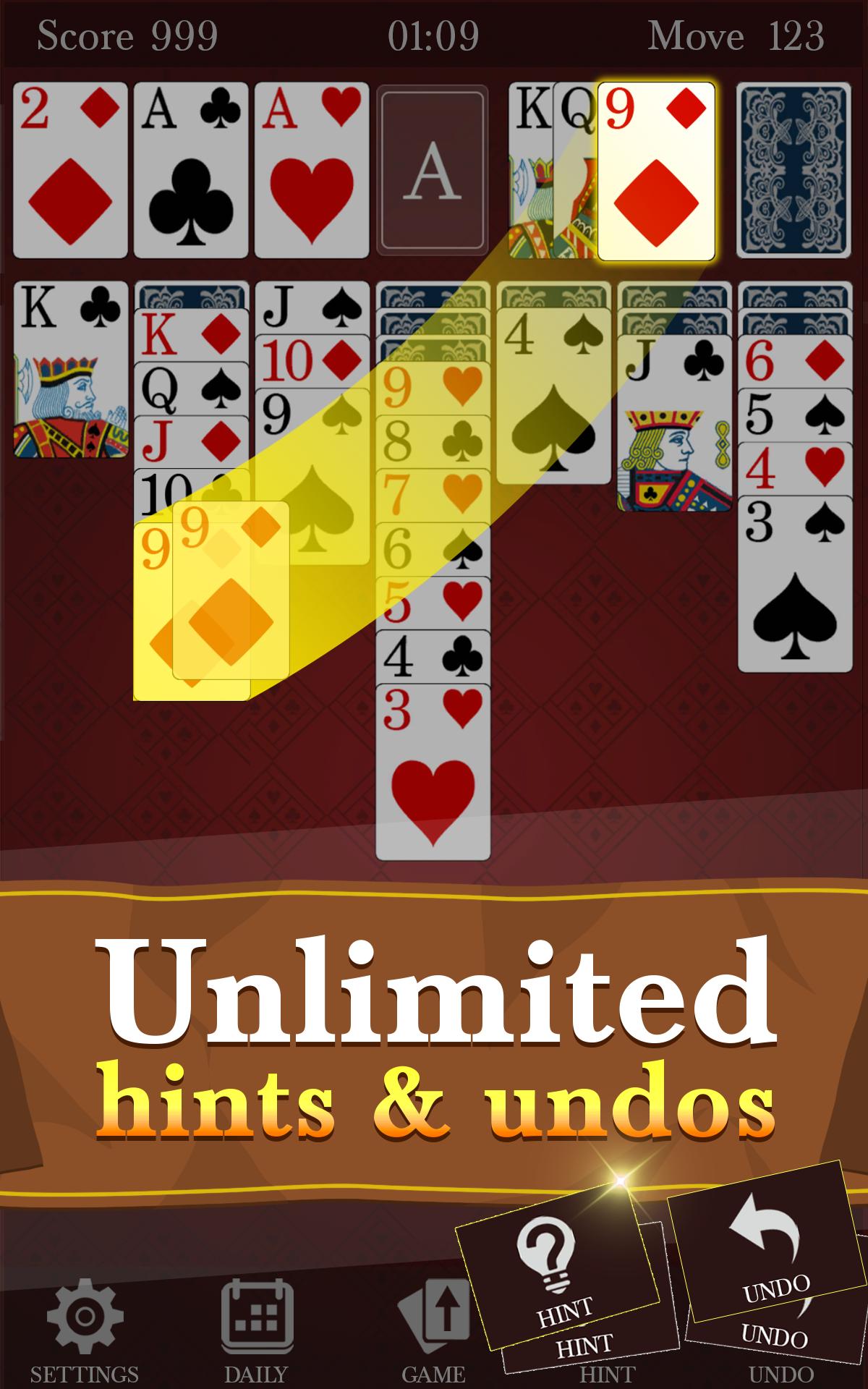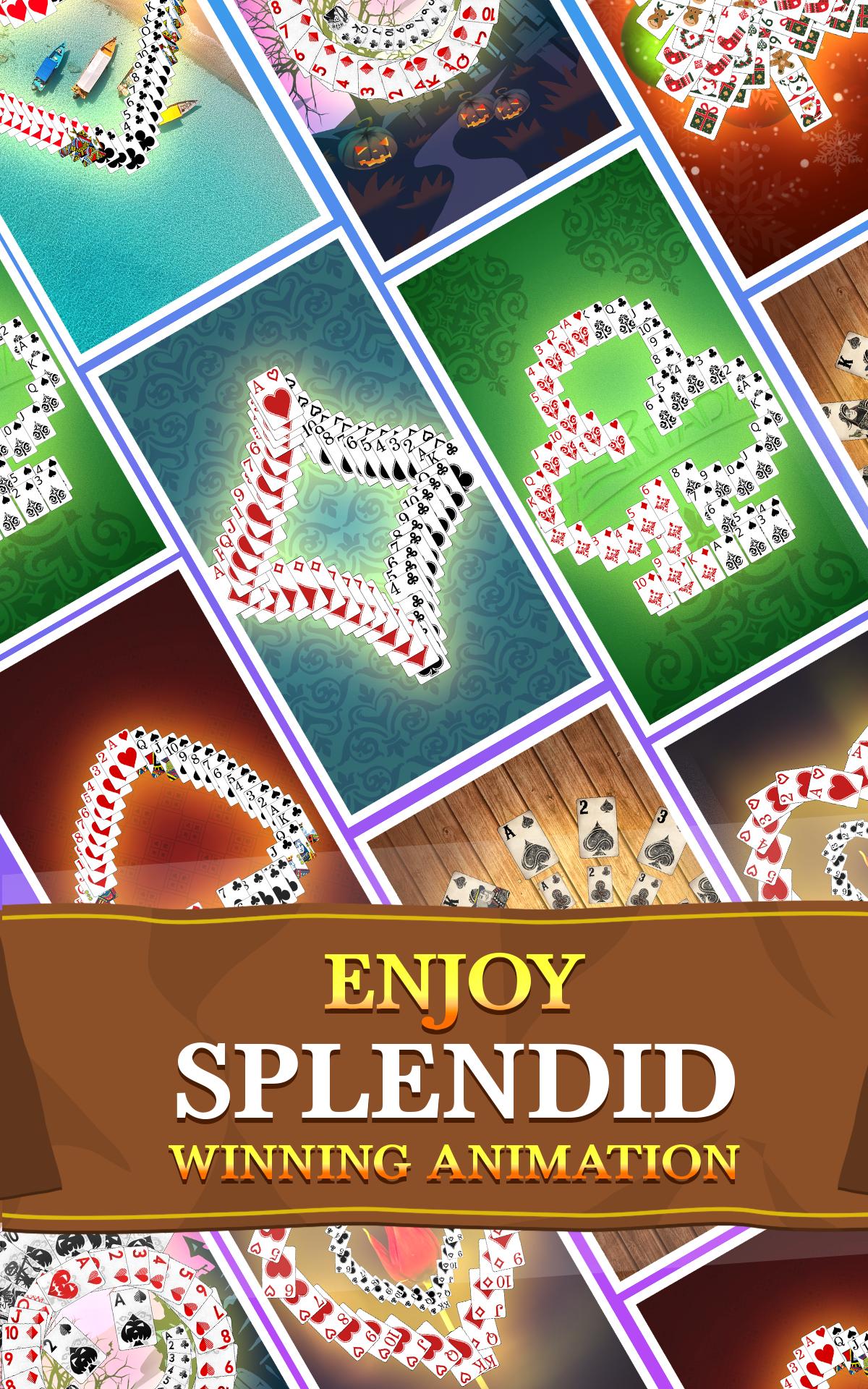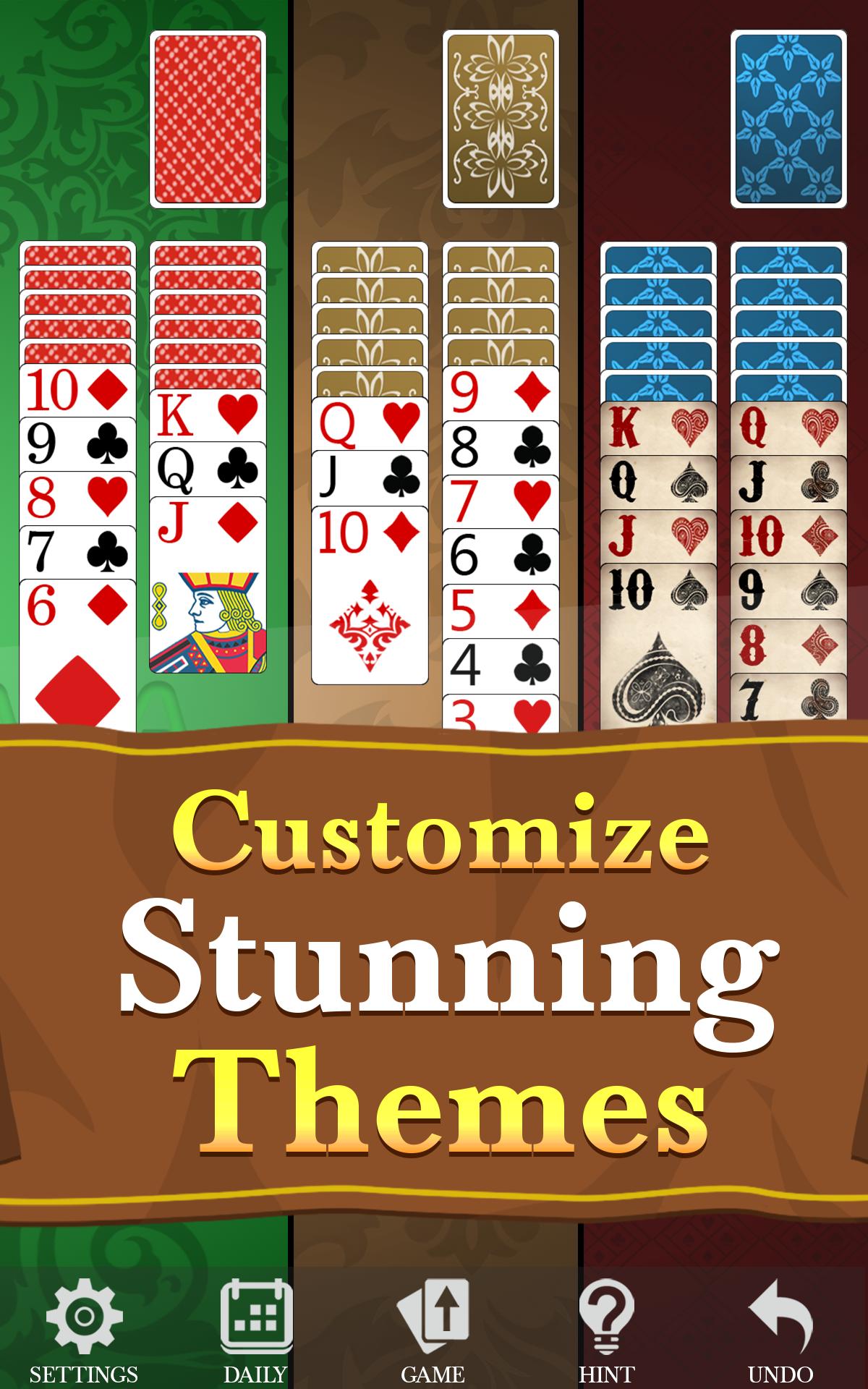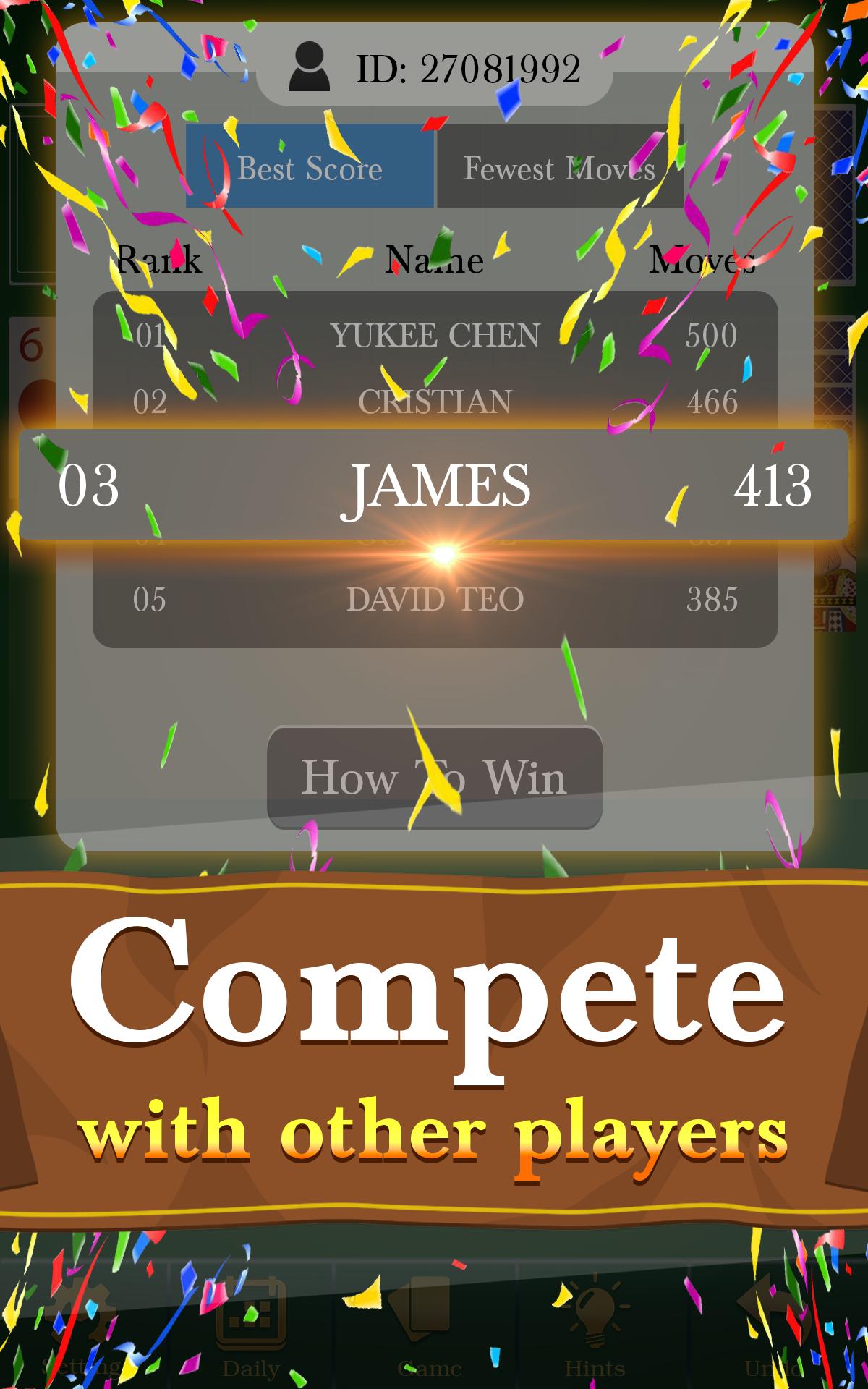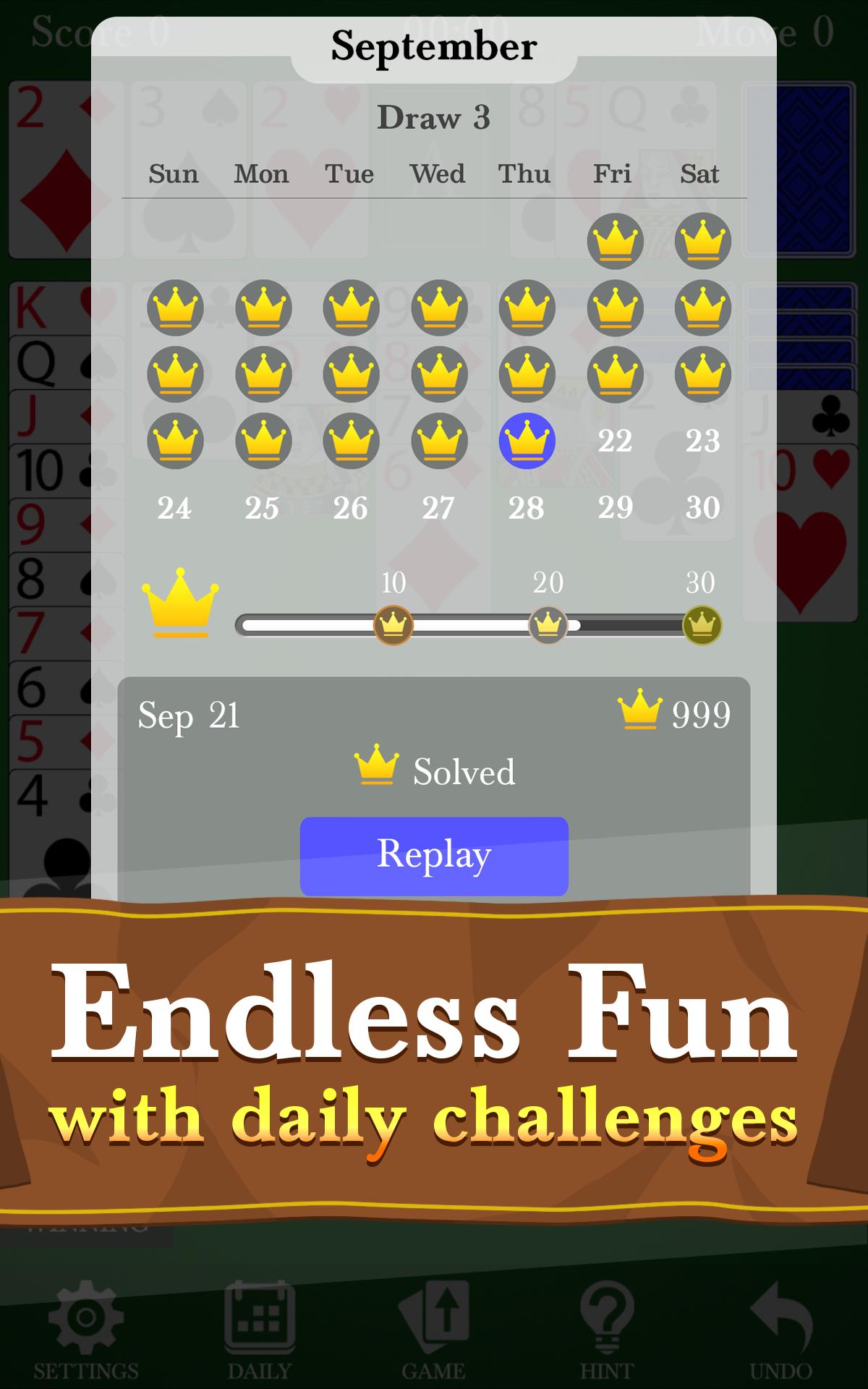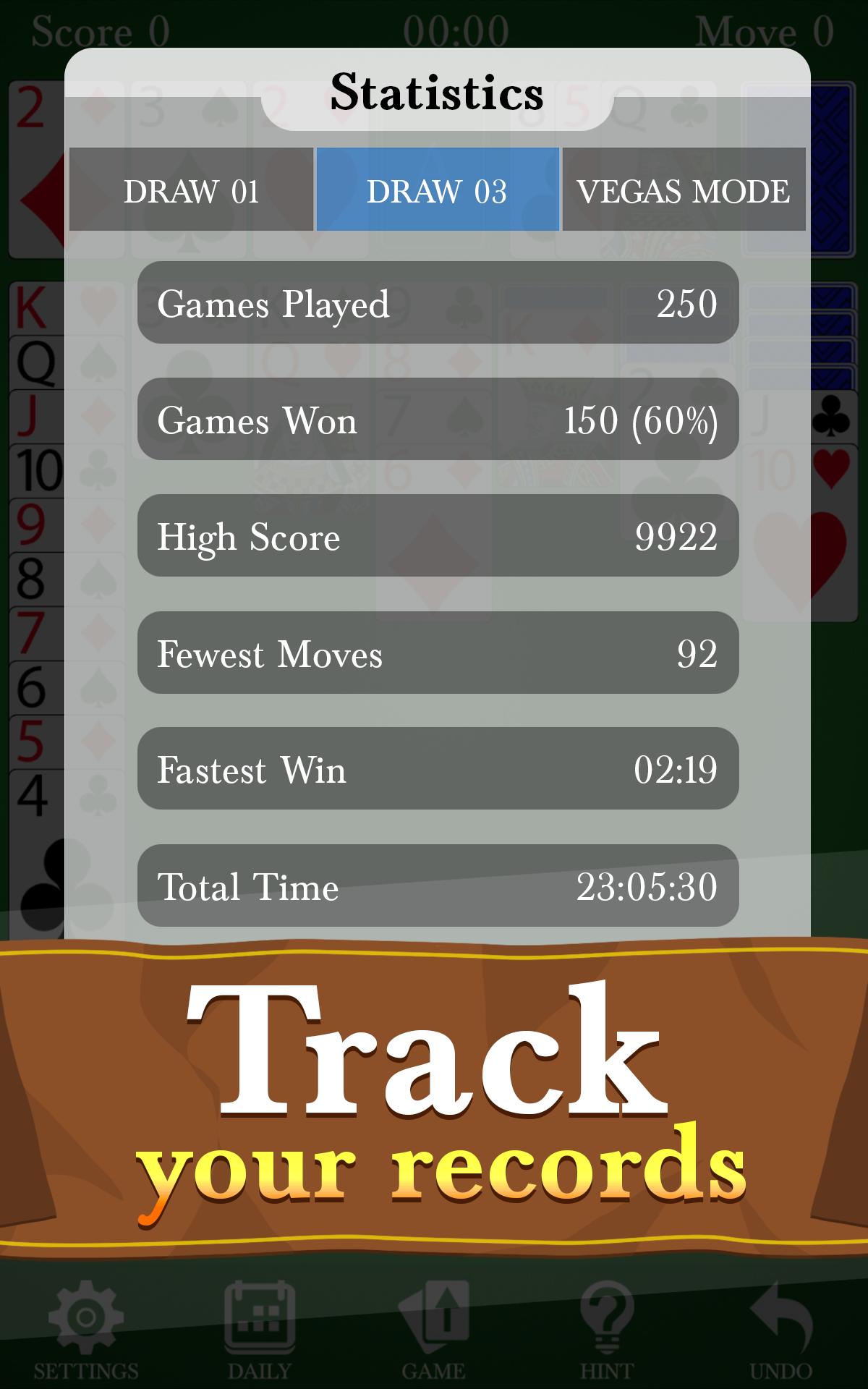 Description of Classic Solitaire
Solitaire Classic - also known as Klondike Solitaire, or Patience in Britain is one of the best-known card game around the world due to its simple rules and easy gameplay. It is a combination between puzzle and memory training game. In order to win, you would need to deploy strategy, skills and a little bit of luck. This game is a great choice to play and train your brain in your free time.

The ultimate objective of Solitaire Classic is to move all the cards to 4 foundations (hearts, diamonds, clubs, spades) at the top left, construct four piles arranged in following order Ace, 2, 3, 4, 5, 6, 7, 8, 9, Jack, Queen and King. Aces would serve as basement in the foundation, whereas Kings are the topmost cards that complete the 4 foundations.
There are 7 columns and from left to right, each column contains one more card than the previous. Cards are moved from column to column simply by single tap or simply dragging them in order from low to high and must be alternated between red and black. The reminder of the cards are face-down in the pile.
Sequence and Foundation are all empty when a new game is begun.

Solitaire Classic: Klondike Card Game - FEATURE
♠ Multiple game modes:
If you are a new player, choose Random Deal with basic game rules. Otherwise, Winning Deal and Vegas Deal would become good options for you to challenge your skills with others.
♠ Unlimited smart hints and free undos.
Solitaire Classic: Klondike Card Game is totally free to enjoy. So use hints whenever you get stuck and need any suggestion for next move.
♠ Customizable themes
There are 3 card faces, 2 card backs, 3 backgrounds and so on for you to change. Personalize themes to suit your taste in Solitaire Classic: Klondike Card Game.
♠ Daily challenges
Accomplish missions everyday to receive unique and exciting rewards. The more challenges you conquer, the more crowns you collect.
♠ Standard or Vegas scoring
We uphold the true spirit of Classic Klondike Solitaire game and optimize user experience on mobiles. In Standard scoring (the default), you earn points based on time and moves; while in Vegas, your ante is $52 to start each game and earn $5 for each card moved to a suit stack.
♠ Compete with other players.
Race against friends or players from other countries and see your ranking on Leaderboard.
♠ Statistic trackers:
Study your progress by tracking score, number of move and total time in each mode.
♠ Left-handed mode
We support left-handed players to make everyone enjoy Solitaire without any boundary.
♠ Klondike Solitaire Draw 1 card or 3 cards.
Play Draw 1 games where it is almost easy to win, or try a memory training game with Draw 3 mode.

If you are a fan of poker, puzzle or memory training genre, don't miss this super addictive and kid-friendly game. Play anytime to train your brain. Try the Solitaire Classic: Klondike Card for free!
Additional Information
Current Version
2.0.6
Publish Date
2020-07-17
Available on

Requirements
Android 4.1+
Similar to Classic Solitaire