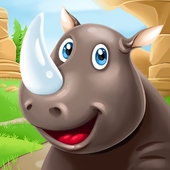 Learning Animals for Toddlers - Educational Game
|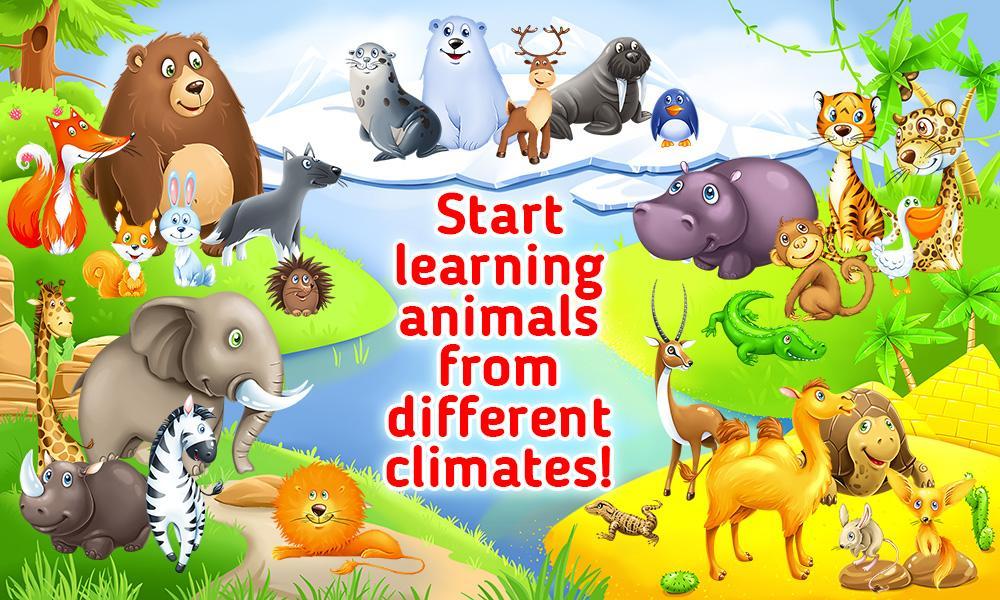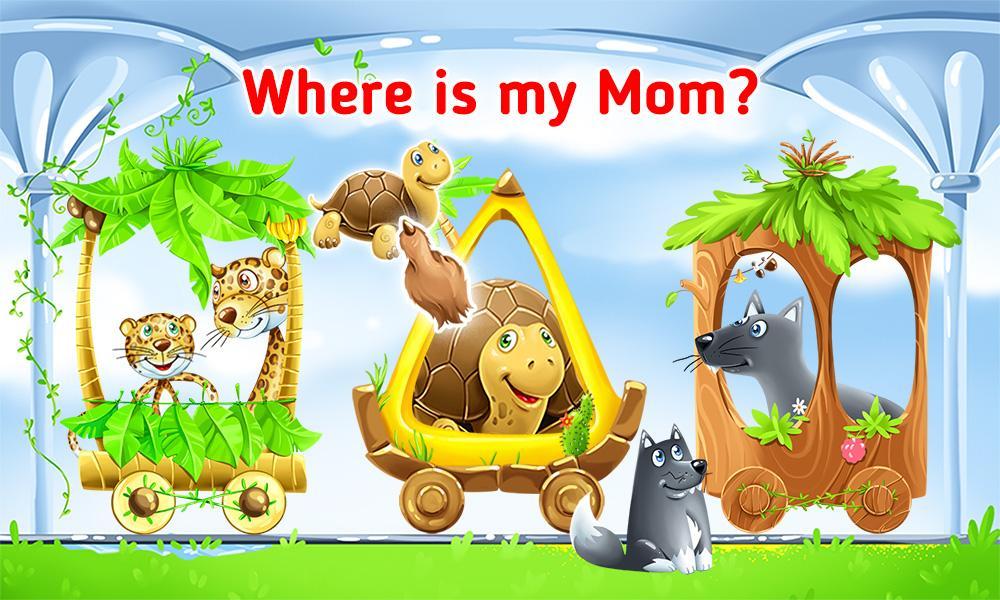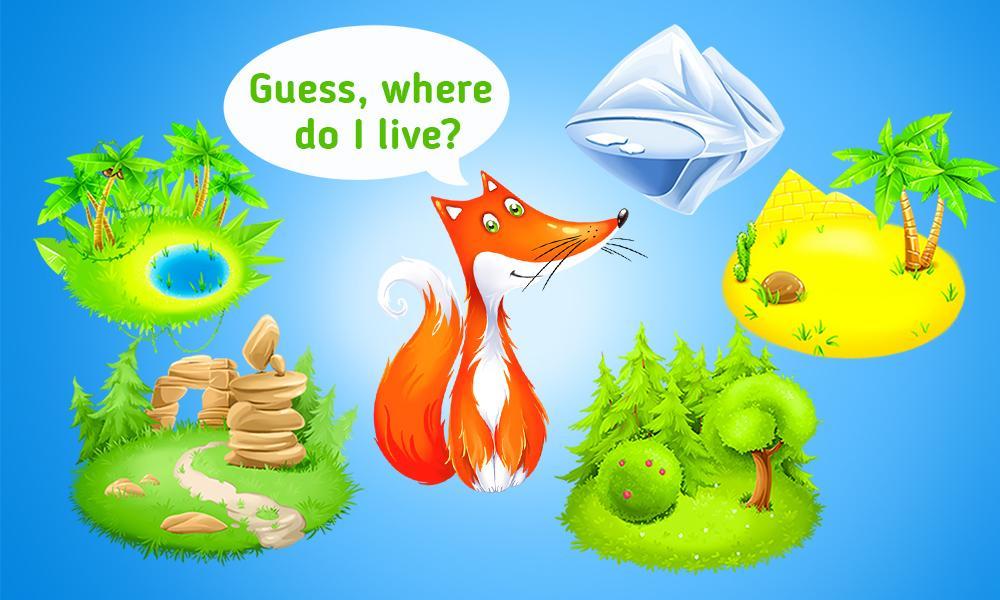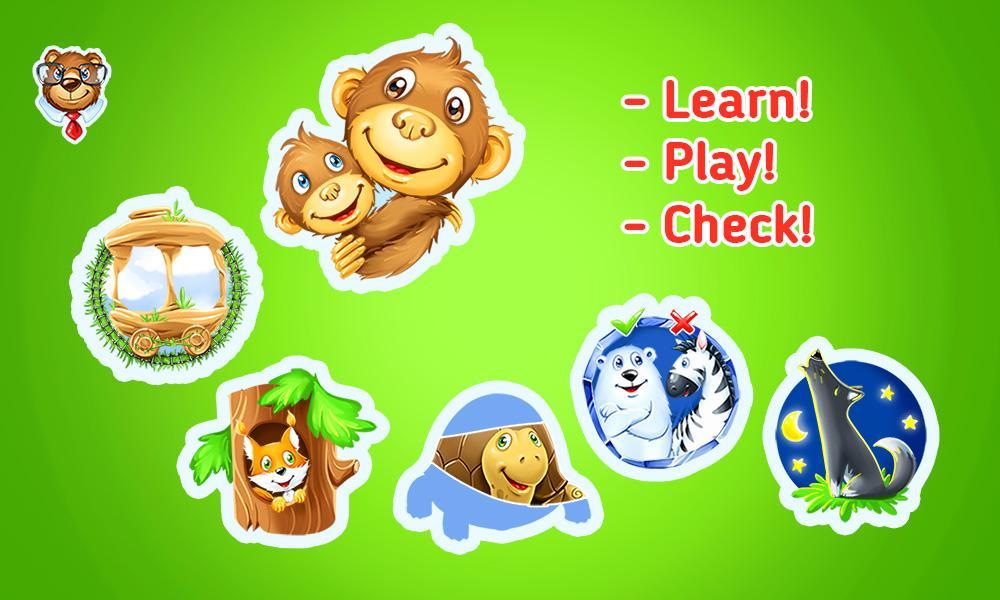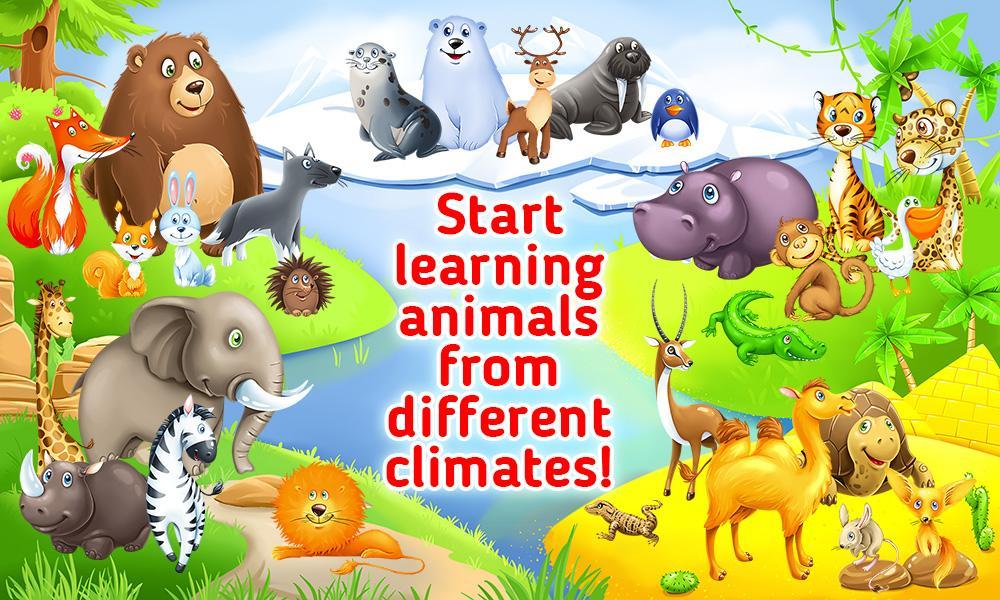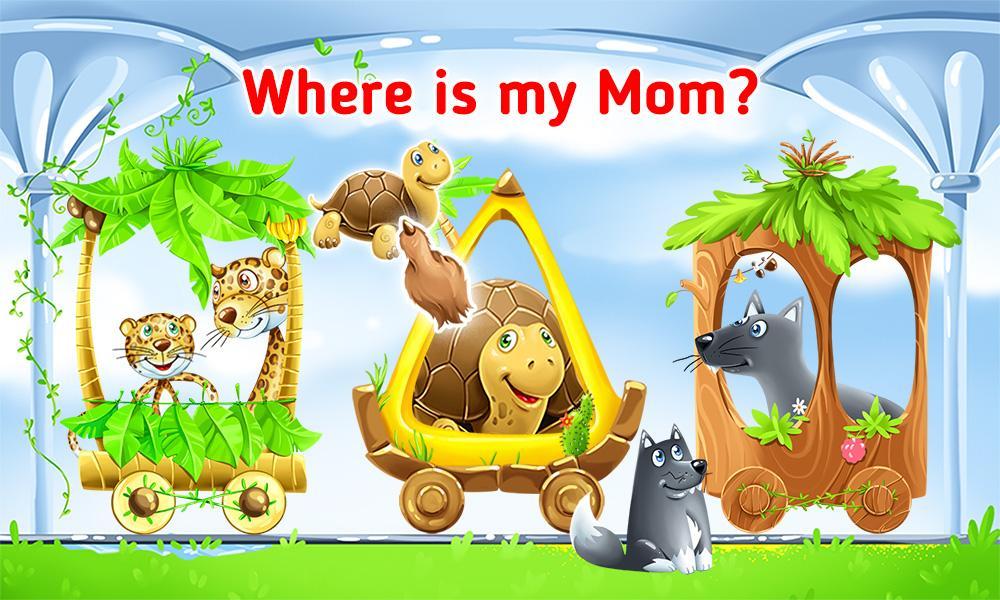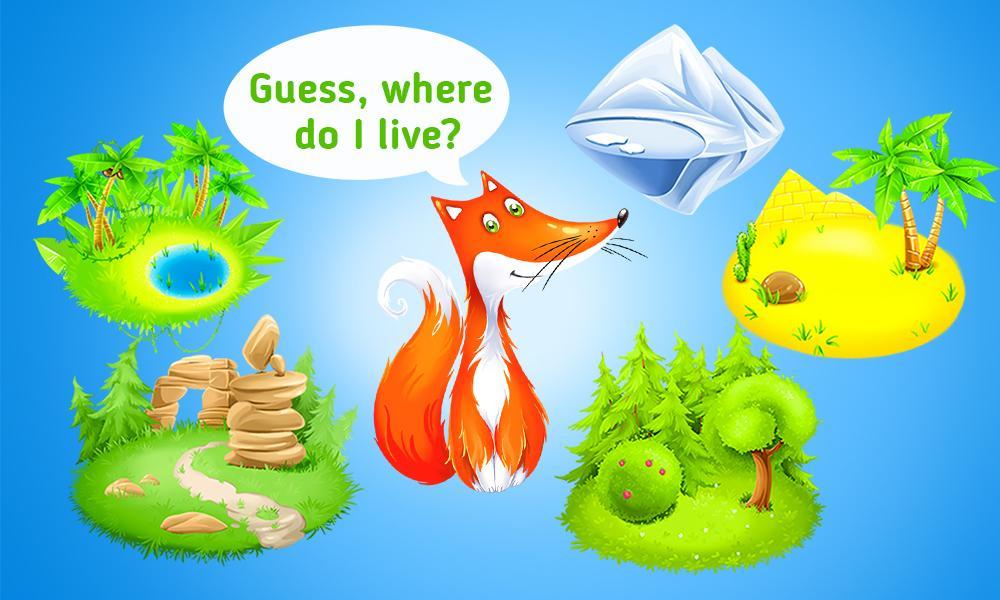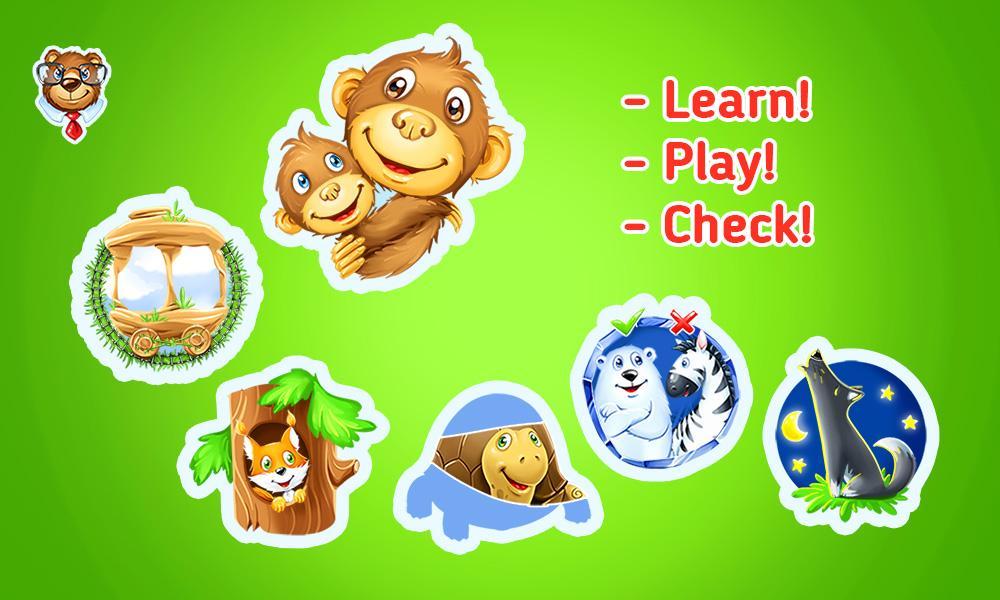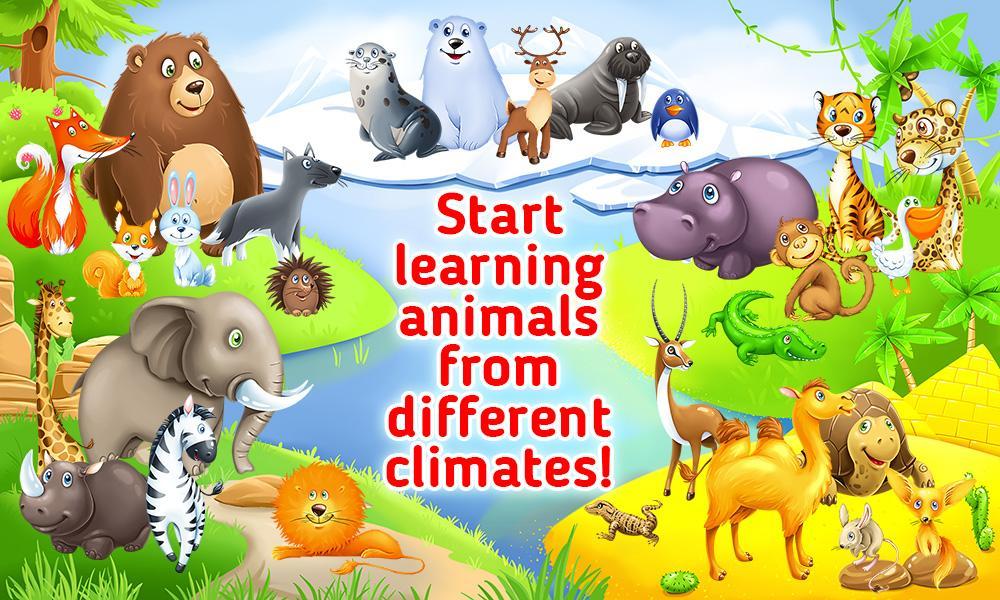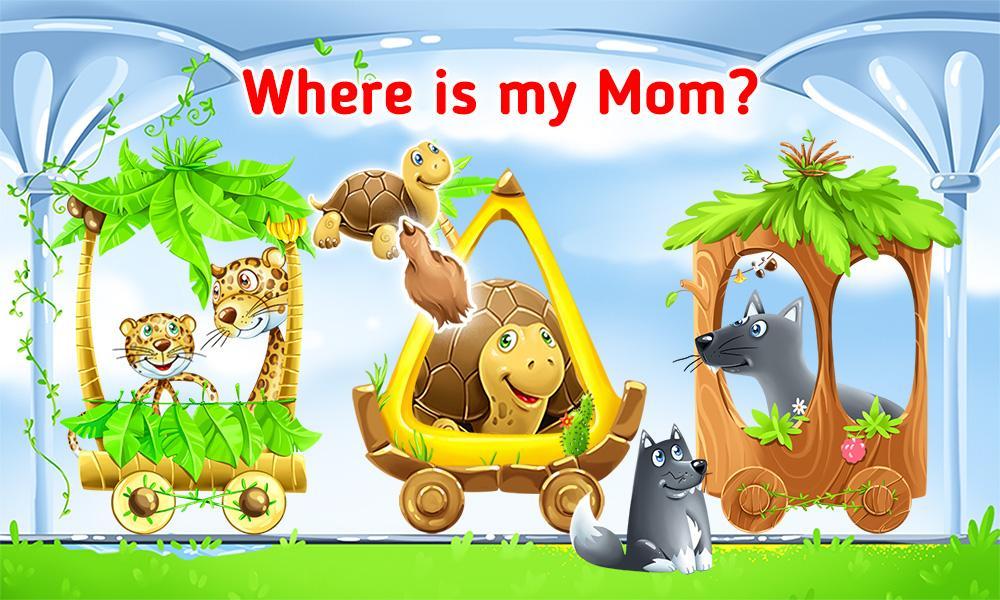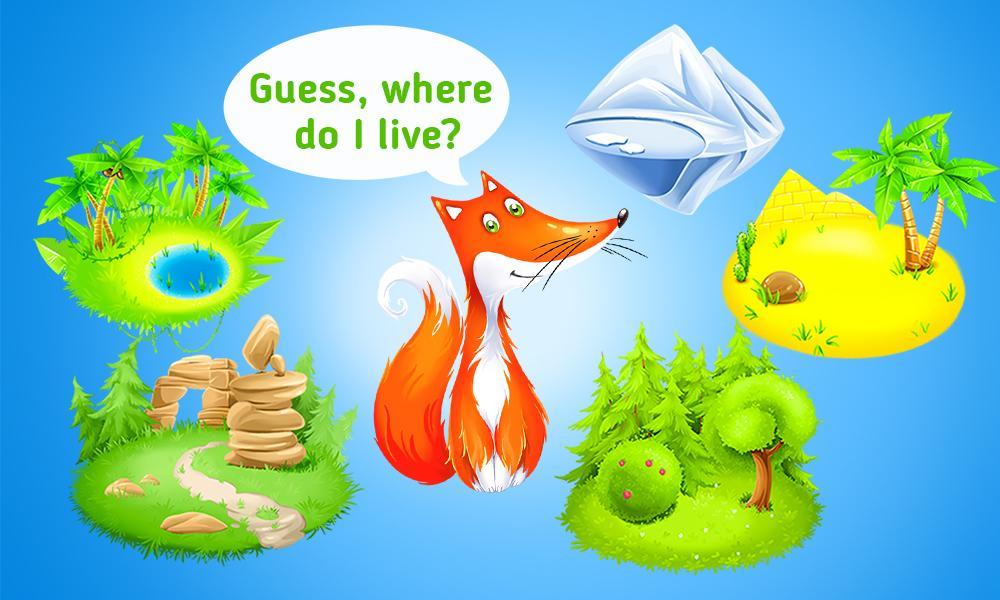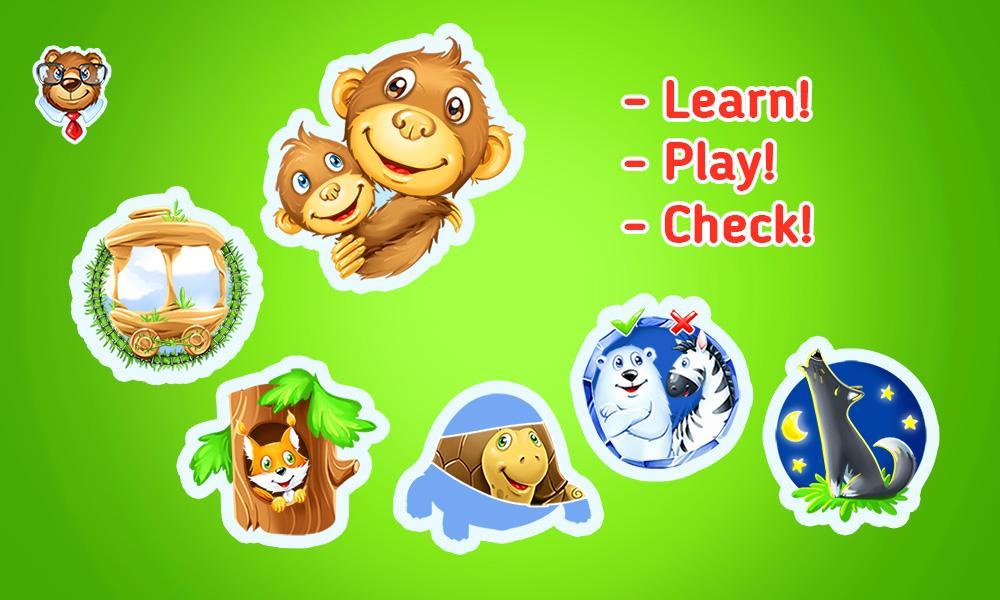 Description of Learning Animals for Toddlers - Educational Game
Learning Animals for Toddlers is an educational game in which little kids can learn animals and animals sounds for kids playing various mini-games. Such animal learning games are suitable for toddlers 2-5 years old.
Main advantages of our learning animal games for kids:
1) With the help of our animal train game your baby will get acquainted with 29 animals for kids from 5 different regions:
- animals for toddlers and kids from the Polar regions and the Arctic tundra - a walrus, a penguin, a reindeer, a polar bear, a seal;
- toddler animals from Deciduous, Coniferous and Mixed forests - a fox, a squirrel, a rabbit, a hedgehog, a bear, a wolf;
- baby learn animals of the Rainforest - a monkey, a hippo, a crocodile, a tiger, a cheetah, a pelican;
- kids learn animals names and sounds for children from the Desert - a camel, a turtle, a jerboa, a lizard, a fox-Fenech, an antelope;
- animals from the Savannah - a giraffe, a rhino, an elephant, a lion, an ostrich.
2) Our animal games for kids will introduce not only adult animals but baby animals as well. As a rule, little kids are fond of baby wild and domestic animals for kids. In our baby animal games your child will learn wild baby animals names for kids in english.
3) Playing our animal games for toddlers your kid will also learn toddler animal sounds. Animals voices sound so natural that your baby will seem to find himself or herself in the middle of a forest or a desert.
4) During learning about animals your kid will get to know what habitats different animals live in.
5) Kids learn animals with the help of puzzles playing our learning apps for kids. Collecting each animals puzzle your baby will learn the parts of animal bodies - a head, a body, paws, a tail.
6) In order to fix the received knowledge of animals for kids learn there are 5 kids animal games:
- Playing one of the games for little kids your baby will guess to what animal the hearable sound belongs. Animal voices and sounds seem funny to little kids so they are happy to imitate animals and laugh.
- The 2nd preschool games for little kids is animal puzzles for kids free. In this educational games for kids kindergarten your child will be shown a picture with an image of an animal. When he or she clicks on this picture it becomes split into several elements that should be collected correctly. In order to help your baby there is a silhouette of the animal to which the puzzle elements should be moved to accomplish animals learning.
- In the 3d animal games toddler will get acquainted with an animal train. Playing this toddler animal games your baby will see a passing train with an adult animal seated in each railway carriage. Little animals for kids free stand along the platform waiting for your child to seat each of them with their parents.
- Playing the 4th learning games for kids your baby will see a certain animal and three variants of a habitat for it. Can a giraffe live in the Polar region? Can a polar bear live in the Rainforest? Your kid will get the answers to these questions playing such learning games for kindergarten.
- The 5th baby games for babies continues to teach your baby the habitats of different animals. A picture of a certain habitat will be displayed on the screen of your smartphone or tablet. There will be a few animals and your kid is to decide what animal cannot live here.
7) Learning animals for kids will be appreciated by children of both sexes, so they can be regarded as learning games for kindergarteners both boys and girls.
8) You can download our animals games for kids games for free. Animal games for girls and animal games free for boys fused in one animal game will save family budget of families with children of both sexes.
Our animal learning game can be recommended as:
- games for toddlers 2 years ol;
- games for toddlers 3 years ol (games for kids 3 years free);
- games for kids 4 years old;
- games for kids 5 years old.
Additional Information
Current Version
1.1.3
Publish Date
2020-08-05
Available on

Requirements
Android 4.1+
Similar to Learning Animals for Toddlers - Educational Game